Midwest Today, November 1996
---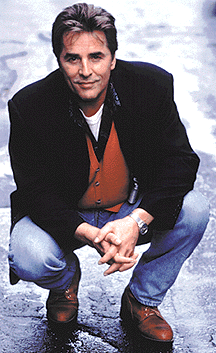 DON JOHNSON:
A STAR REBORN
A Cool Dude With A Trendy Style,
This Guy's Making It Big Again,
Proving He's No More Mr. 'Vice Guy
An EXCLUSIVE Interview By LARRY JORDAN. Copyright 1996
He'd been on the set of his new hit CBS-TV cop show, "Nash Bridges," since 7 A.M., and it was now almost 12 hours later. Taking quick drags on a cigarette, Don Johnson hurriedly answered questions between shooting scenes on a day that had been problematic. Still, the banter was light, he was quick with the one-liners, and he laughed heartily, in that smoke-tinged and raspy voice that is now so familiar to millions of TV viewers.
Probably best known as the hip detective, Sonny Crockett, on the '80s trendsetter, "Miami Vice," Johnson has seen his career take many turns. He has been hot -- and not -- lukewarm and left out in the cold.
His personal life has been splashed all over the tabloids, from his on-again-off-again marriage to (now ex-wife) Melanie Griffith, to his treatment at Betty Ford.
These days, the guy born Don Wayne Johnson 46 years ago in Flat Creek, Missouri, is a star reborn, performing a miracle for beleaguered CBS and increasing its share of the coveted Friday night audience. Going up against formidable opposition in its time slot like "20/20" , "Nash Bridges" debuted last Spring, and was one of the first shows renewed by the network for the Fall line-up.
After a ten-year slump during which Johnson couldn't seem to get a break, his life has improved on all fronts. He went in with pals Bruce Willis, Sylvester Stallone and Arnold Schwarzenegger as a principal investor in the hugely successful Planet Hollywood chain of movie-themed restaurants. He has also set up his own production company, and is the executive producer as well as star of his new show. He has a site on the World Wide Web, to connect with legions of his fans, who have an almost cult-like admiration for him.
He got good reviews starring with Kevin Costner in this Summer's "Tin Cup," and shooting started recently on Johnson' s new thriller, "Goodbye Lover," with actresses Patricia Arquette and Ellen DeGeneres.
To top it all off, his rumored dalliances with a stunning array of the world's most beautiful women, make Don Johnson the Warren Beatty of the 1990s.
On the show, "Nash Bridges," Don portrays a San Francisco police detective with two ex-wives, a teenage daughter, an aging father who has Alzheimer's, and a new sidekick (played by Cheech Marin of Cheech and Chong fame).
Just like Crockett, Nash wisecracks his way through busts -- he asks for the "master key" just before someone hands him a sledgehammer to bash his way through a door.
But rather than worry too much about the rising crime rate in the city by the Golden Gate, he saves his angst for the night he has to miss his daughter's school play.
"Nash Bridges" revives the '70s character-driven action shows like "Mannix" and "The Rockford Files," but with all of today's sensibilities imposed. It was a concept that evolved from conversations Johnson had with his Aspen, Colo. neighbor, gonzo journalist Hunter Thompson. The original idea, which went through several transmutations, took awhile to get on the air, because CBS was going through a management shuffle, and Don' s project was left in limbo.
"They don't want to take the show if it' s a success for the other guy, and they damn sure don't want to go down if it's a failure," he recalled.
It was "Miami Vice," which aired from 1984 to 1989, that established Johnson as a star of potent marketability. "Vice" was a new breed of cop show -- known for its quick-cut edits, hard-driving soundtrack and stylistic touches.
Johnson portrayed a super-narc who cruised for Florida's cocaine cowboys in his $200,000 speedboat and his $100,000 Ferrari, and lived on a sailboat.
Don Johnson single-handedly started a men's fashion revolution based on his sort of tropical desperado glamor, complete with stubble, linen blazers with pushed-up sleeves, baggies, T-shirts in pastels, and espadrilles with no socks.
Millions of men outfitted entire wardrobes based on Johnson's example, a trend that was noted even by fashion mavens in New York's Garment District.
"All of that came out of the design of the character," Johnson revealed. "There wasn't anyone saying, 'hey, you know what, we'll just make this guy a fashion icon.' And the fact that he wore no socks -- well, it's too hot in Miami for socks.
"The character was a very, very loose, hard-partying, hard-crime-fighting kind of guy. The stubble came out of the fact that he hadn't been to bed in three days. And that just became a part of the character."
With "Nash Bridges," one senses Johnson is approaching things with a bit more calculation. Nash wears flashy threads like three-tone suit jackets with fancy stitching, a sweater vest to combat the fog -- the layered look is in -- and is usually clean-shaven, though sometimes not.
He drives a custom 1970 yellow Barracuda -- one of only 14 made -- that pairs the convertible with a 426 Drag Hemi engine capable of 0-60 mph in 5.7 seconds -- muscular indeed.
Nash packs a two-tone black and silver finish .45 custom automatic, fitted with a compensator to reduce recoil.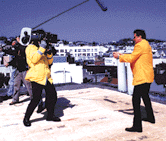 He lives in a warehouse apartment damaged by an earthquake.
The music is used to show how Nash and his partner, Joe, are beat up by the women in their lives, how they've been hurt. When Joe's wife of 17 years throws him out of the house, we hear the Allman Brothers' "Whipping Boy" : "I don't know why I let that mean woman make me a fool."
Salon, an on-line magazine, described the TV drama thusly: "The show is manly, yes, but romantic enough for female viewers, too. It's a cop show, but it's a comedy. It's low art, but it's arty. Nash is Southern, but urban; hokey, but cosmopolitan; horny, but tender; single, but married; white, but black. [Nash] drives a '70s car wearing ' 80s clothes with a '60s burnout for a sidekick, through the multicultural melting pot of the '90s.
The series is filmed entirely in San Francisco. One of the bonuses, cracks Don, is that "It's hard to find a bad meal here."
Don Johnson is also a multimedia innovator, providing multi cultural "prequels" to "Nash Bridges."
Last Summer he hit upon the idea of offering refuels " webisodes" that would lead to a cliff hanger resolved at the start of the next Friday night show. "It's like a shadow world," says the actor. "You can tune in to 'Nash Bridges' on your PC any time you want." (http: //www.thenetshow.com)
In the newssheets version, Bridges narrates cases in Dashiell Hammett-style text accompanied by photos. Clues wind through pages of classified police reports, government documents, websites, and e-mail from mysterious hackers.
Don Johnson's resume is a mile long. He's appeared in the series "From Here to Eternity," and the made-for-TV movies "Elvis and Me," "Centerfold" and "First You Cry."
He's been in the miniseries "The Rebel" and "Beulah Land."
His feature film credits include "Sweet Hearts Dance," "Harley Davidson and the Marlboro Man," and many more.
He served as executive producer on the highly acclaimed CBS telefilm "In the Company of Darkness," as well as " The Horatio Alger Awards." And Johnson has been featured on a Barbara Walters special.
Clearly, Don Johnson has lived his life in the fast lane. His name has been linked to a series of women like Barbara Streisand, Oprah Winfrey, and Cindy Crawford.
He met Melanie Griffith when she was 14 and he was 22, and they later married for six months, got divorced, then remarried years later, and stayed together about six years.
He's had his tumultuous times, including falling off the wagon in a very public way after 11 years of sobriety. But he' s gotten treatment and has walked a straight and narrow path ever since.
Some interviewers have found him difficult. R.D. Heldenfels of Knight-Rider Newspapers wrote a whining piece saying Johnson was snappish and "doesn't seem to be concerned what reporters...think about him." But we found him most gracious and thoughtful -- an endearingly nice guy. No kidding.
We began our interview while he was on the set in San Francisco. We talked again the next day when he was in his office at the studio on Treasure Island. At one point, his young daughter walked in, and he called out "Hi angel!" It was a tender and revealing moment.
---
We understand that you grew up in the bustling metropolis of Flat Creek, Missouri?
(Laughs).Well, that's where I was born, and when I was about five, we moved to Wichita, Kansas. I was there in Wichita until I was about 12, and then back to Missouri, and then back to Wichita for my senior year in high school.
How did you ever get the idea that you wanted to pursue an acting career?
Actually, I got thrown out of my business class in my senior year in high school, and I needed that credit to graduate. And the only class left open was a drama class. I said 'Oh no, drama...isn't that for guys that are a little light in their loafers?' You know, guys that wore glasses and shit like that. I wanted to play football, but the drama class was at the same period as athletic period. So I had to drop out of football and lo and behold, I got into drama and it all began.
You ended up going out to San Francisco, I think, at the age of 18?
Well actually first of all I auditioned for the Summer repertoiry program at the University of Kansas, was given a scholarship, and I went to the University...for almost a year. From there, I auditioned...one of the directors for the American Conservatory Theater in San Francisco was there directing Cervinski' s operetta, "Rake's Progress." I knew who he was, so I kept pestering him and pestering him for an audition.
Finally, after about three weeks he gave me an audition and hired me for the company. So my fate was pretty much sealed then.
From the time you really started your acting career and when Michael Mann finally took a chance on you with "Miami Vice", what is it that sustained you during that period, that kept you going?
Well, I got gigs -- not that many, but I got a bunch of gigs that kind of held me over: movies of the week, low-budget features and things like that. But ya, it was a rough dry period there for about 15 years.
You've had quite an extensive film career, but not all of your movies have been successful.
I've picked some films that didn't score at the box office, but I always picked them for the right reasons, and I don't sit around and rethink those decisions. I'm not going into "Nash Bridges" feeling that I have something to prove.
You were such a trend-setter on "Vice." And even on the current show, you always seem to have all these extra stylistic touches -- the clothes, the cars, the architecture. How does that come about? Do you carefully think that out?
Absolutely! Every detail of the show has been pondered about and gone over to the enth degree. This show, particularly, has my touch all over it.
And of course you have your own production company, so you're involved in story lines, character development...?
Everything. Everything, ya.
How is "Nash Bridges" different from "Miami Vice?"
I'm walking a different kind of line with this show. I want the tone of it to be something we can enjoy, something we can laugh with, and at the same time, I want it to be about the people -- their heart, their feelings. It's more a show of the '90s. It's not as nihilistic as "Miami Vice." It's lighter. Funnier. Less violent. If there's an explosion, it's a funny explosion.
What do you want to accomplish with this show? Where do you want to take it?
It's like painting. It's like having a giant canvas and just being able to paint with people and images and film and cars and costumes. It's really a joy, it's fun for me.
What's the hardest part of what you do?
Doing interviews (laughs uproariously). I'm kidding. I'm kidding. It looked like a grapefruit coming over the net; I couldn't resist. No, it's the stamina that you have to have to sustain the quality bar that I\rquote ve set. Doing a series is a marathon. I forgot what these kind of days are like, but I was rapidly reminded. It's long hours and a lot of focus.
You' re obviously in good shape to be able to do all the rigorous physical things that are required on the show. Do you work out?'
Well, you know, after years and years of doing this, I' ve kind of just gotten it down. I know how to sort of maintain to keep it. I do exercise and I watch my diet. Yoga has become a real big friend of mine. It keeps ya young and supple.
What do you do to relieve stress?
Yoga and sex (laughing).
What do you think is the biggest misconception about Don Johnson?
You know what? I don't give it any thought.
Really?
Nope, I dont. I made up my mind a long time ago to live by a really simple code: What other people think of me is none of my business -- only what I think of myself, and only how I feel about what I'm doing. I don't usually read any of the things that are written or said about me...
Terrific! Now you tell me...
(Laughing). Not usually. If I do read them, then I treat both the good and the negative the same. They're both, in my view, and my code, they're both imposters -- all the good stuff, and all the bad stuff. It has very little to do with me, of who I am, and has everything to do with what I do for a living.
What is something about you that people would be surprised if they knew?
Ah, let's see.... I am a geography nut. And I like reading strategy books like Sun-Tzu's "The Art of War." Or Machiavelli's "The Prince". Or the "Discourses" or various books like that that could tend to be taken as...most people have very misconceived ideas of what those books are about. They're more about the spirituality of structure than they are about controlling. The general term when you hear someone say Machiavellian, they tend to believe that it s...
Devious? Conspiratorial?
Ya. And in fact, there is a certain amount of that, a certain element to it, and that's what everyone relates to it. But it is in fact not the totatility of what the book is about.
What do you do when you\rquote re not working? It just seems that you work constantly.
I be with my kids. We go on excursions and adventures. And that's what keeps me going. I love that. I would rather be with my children than most everybody I know.
Tell us about your chldren.
I have a daughter, seven (years old), a boy 11 and a boy 13, soon to be 14. My sons are a hell of a lot easier to get through to than my daughter is. She seems to have my number. She can just run through the buttons and if she wants to see Daddy happy she can do that. If she wants to see Daddy mad she can do that too.
But you have a wonderful sense of humor.
I think that if you don't have a sense of humor in life, you've pretty much lost about half of the experience, if not more than that. I'm certainly not trivializing anybody' s pain, and certainly not my own, but I don't necessarily think that you need to dwell on it.
You said Aspen is really what you consider to be home?
Well, my ranch in Colorado. It's not actually in Aspen (it's in Woody Creek). But it's what my family considers home.
And you have Hunter Thompson as a neighbor? What's that like?
(Laughs) It's never dull...
Do you have a private life? I mean, can you go out and not be besieged by fans, can you be anonymous and go out to a [store] if you want to?
It depends. It depends. If I don't have to be "Don Johnson" I can. You know? Sometimes I can just not be Don Johnson, you know?
What about all the press reports; you're portrayed as like the Warren Beatty of the '90s.
(Laughs)
I mean, your name is linked to all these fabulous women. How you' d have time for all that I don't know...
(Laughs) Scheduling...
Can Don Johnson actually have a normal life, meet a female that you're interested in, without the press being all over it with gossip and conjecture?
Ya, that's difficult. But you know what? Over the years I've learned how to not put myself in positions where it becomes an issue before I want it to be.
Are you linked with anybody that you talk about?
No.
Next question (laughs). What gives you the most satisfaction in life?
My children. My children are my greatest source of joy and pleasure that I have in my life.
What do they think of dad being on TV?
Oh you know, they've all grown up with it. Jesse was two when I became mega-famous, so it;s old hat to them. In fact, they make fun of me all the time (laughing). They're brutal.
Do you watch your own show, and are you self-critical?
Oh, my God. First of all, I'm involved in every aspect of this show, from story lines to the final edit. So I see the shows sometimes 15, 16, 18 times before they air.
You have all these things going for you: You' ve got children, career, money, fame -- somebody said you have a jet airplane...
Yes, I just sold my plane actually....I sold it because I want to get a different one.
It sounds like you have a blessed existence, a fantastic life. Do you?
I have a very, very blessed life. I am graced all over the place. I've worked very hard, and I've taken some tough shots here and there, but by and large I have to say that -- well, the Chinese have a saying: "May you live in interesting times." Thats one of the greatest betrothals of good fortune that the Chinese would give you. And if that's the case, then I have an abundance of interesting times (laughs).
---
Click Here To Recommend This Story To A Friend
---
Back to the top
Contents copyright 1995, 1996, 1997, 1998 and 1999. All rights reserved.